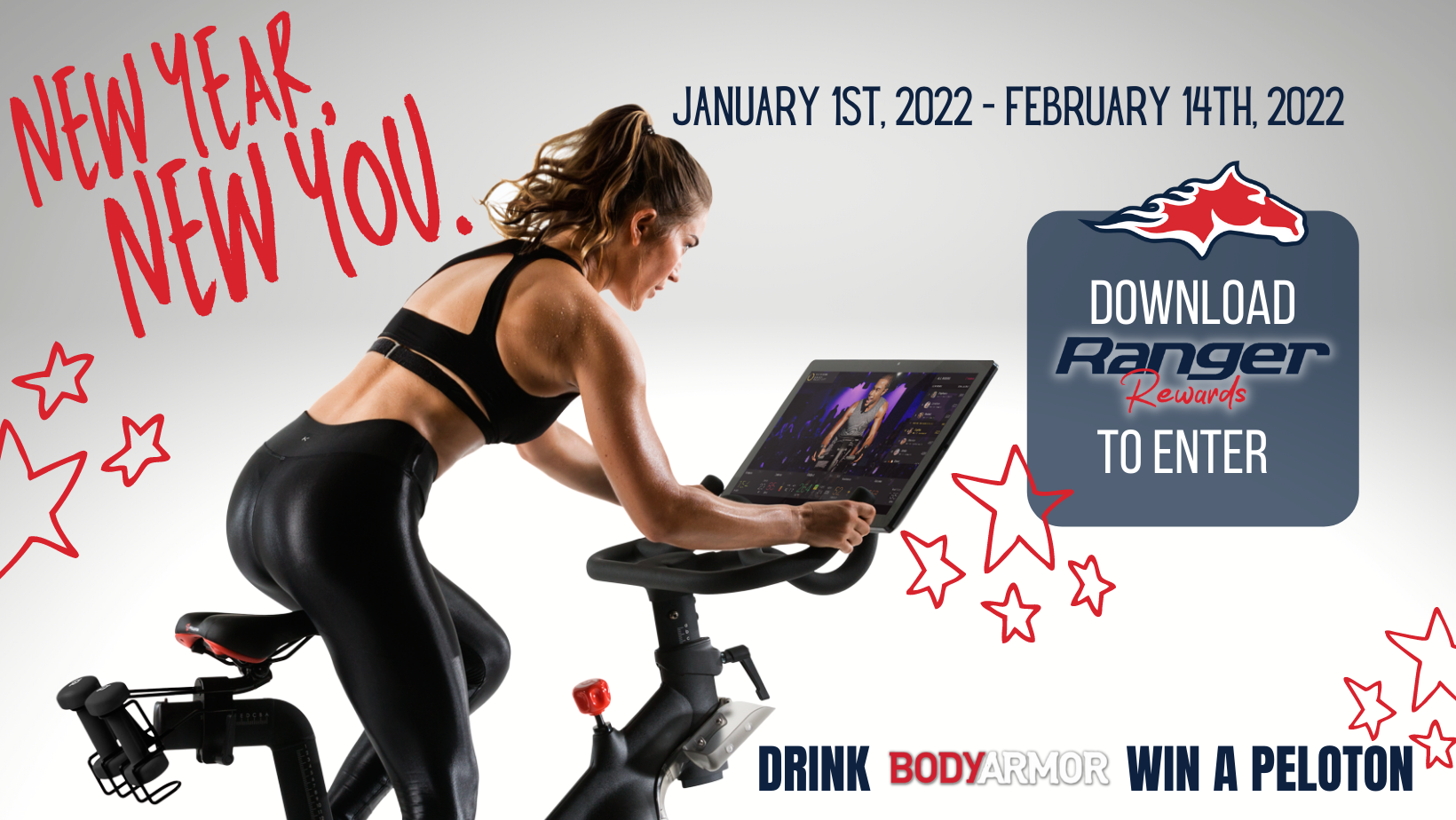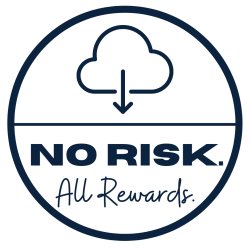 Step One
Download Ranger Rewards from your mobile app store!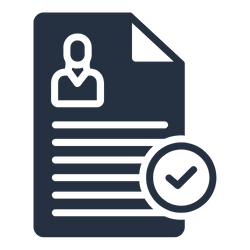 Step Two
You must be a registered Ranger Rewards member in order to view the Daily Entry Barcode. You can do this in-app or by clicking the link below.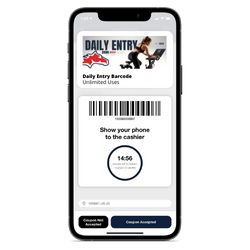 Step Three
Click into the daily entry coupon on the app and scan the barcode at checkout. This is ONLY available on the Ranger Rewards App.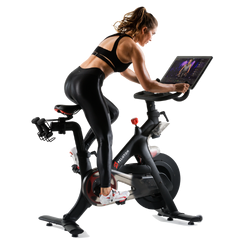 Step Four
It's as simple as that! Now get ready to WIN BIG! Don't forget you can enter once a day every day from Jan. 1st - Feb. 14th!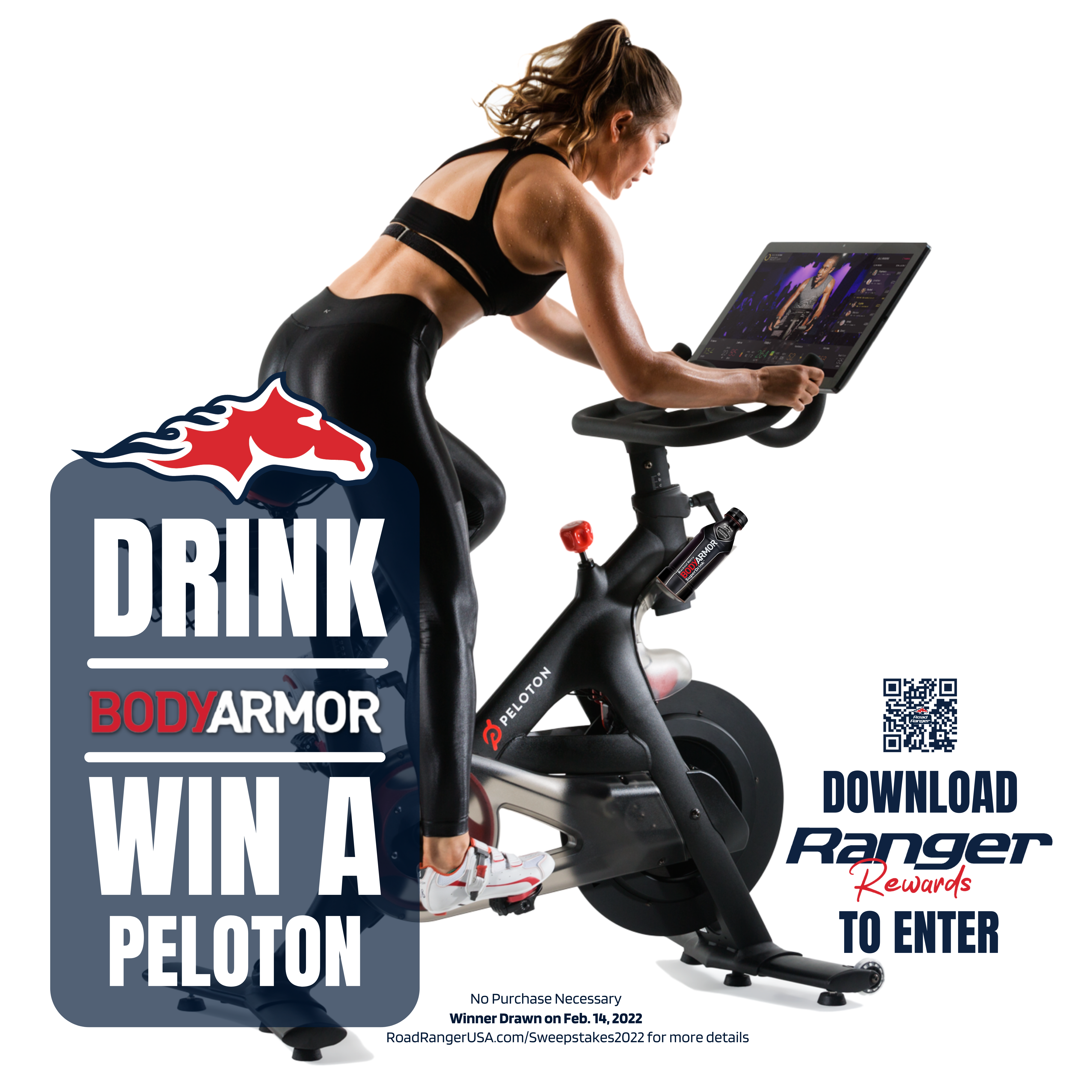 Road Ranger's Peloton Giveaway Official Sweepstakes Rules
Official Rules
*NO PURCHASE NECESSARY* These Official Rules ("Official Rules") apply to all sweepstakes conducted via the Road Ranger Mobile App. Each individual sweepstakes (the "Sweepstakes") will be announced via the Road Ranger Mobile App ("Sweepstakes Post"). A Sweepstakes Post will include how to enter, the entry deadline, and the prize. All information contained in a Sweepstakes Post is incorporated herein by reference. Detailed sweepstakes signage and promotional material will be posted at participating Road Ranger, L.L.C locations listed in Appendix A.
SPONSOR:

Road Ranger, L.L.C., 1501 Woodfield Road, Suite 300 S, Schaumburg, IL 60173.

ENTRANT

: Each person who enters the Sweepstakes is referred herein as an "Entrant".

ELIGIBILITY:

Open to legal residents of the United States, 18 or older.

Employees, agents, officers, and directors of Road Ranger, L.L.C. ("Sponsor") and its respective parents, subsidiaries, affiliates, and advertising and promotion agencies ( "Released Parties") and members of their immediate family (spouse, parent, children, siblings, and their respective spouses, regardless of where they reside) and persons living in the same household, whether or not related, are not eligible.

Void where prohibited. Subject to all applicable federal, state, and local laws.

HOW TO ENTER:




Entrants may enter the Sweepstakes through the three entry methods described below:

Entry on the Road Ranger Mobile App.  Follow the directions provided in the Sweepstakes Post above to enter. As directed by the Sweepstakes Post, each entry must include the Entrant's name, current mailing address, current email address, and current telephone number (include area code). This information will be pulled from your completed sweepstakes entry form or Entrant's registered Ranger Rewards account profile. No purchase is necessary to enter or to win, and purchase in the Road Ranger Mobile App will not improve an Entrant's chances of winning.  Limit one (1) entry per person, per transaction.  All entries must be submitted and received by the time and date stated in the Sweepstakes Post to be eligible.  Entries generated by script, macro or other automated means or by any means which subvert the entry process are void. If you do not have the Road Ranger Mobile App, it is free to download.

No Purchase Necessary Mail-In Entry. To enter by mail, handprint your full name, mailing address, email address, phone number, and birth month and birth year on a plain 3 x 5 inch sheet of paper and mail via U.S. mail to Road Ranger Corporate Headquarters, Attn: Road Ranger Mobile App, 1501 Woodfield Road. Suite 300 S. Schaumburg, IL 60173. Entries must be submitted and received by the time and date stated in the Sweepstakes Post to be eligible.  Limit one (1) entry per person, per day.

Social Media Entry. Entrants may enter the sweepstakes via Facebook, Instagram, or Twitter by sending a private message to the Road Ranger social account or by tagging themselves in a photo at a Road Ranger location. Each entry must include the Entrant's name, current mailing address, current email address, and current telephone number (include area code). Social media entries will be accepted during normal business hours, and will be combined with in-app daily entries. 

ENTRY REQUIREMENTS:

Entry must be Entrant's original work (if applicable), be in keeping with Sponsor's image and not be offensive, obscene, hateful, harmful, tortious, libelous, slanderous or inappropriate or disparage Sponsor or any of its brands in any way, all as determined by Sponsor in its sole discretion. Entry must not defame or violate or infringe upon the rights of any person or entity. Entry must not in any way, either visibly or otherwise, contain any brand names, logos, or trademarks other than those of Sponsor, which Entrant has a limited license to use solely for purposes of this sweepstakes. Entry must not include personally identifiable information of any person other than Entrant. Entrant is responsible for obtaining, prior to entering, any and all releases and consents from any persons appearing in an entry that are necessary to permit the exhibition and use of the entry by Sponsor as set forth in these Official Rules. No photo or video entry submission, if applicable, may include anyone under the age of 13. If any minor child appears in any such entry, the Entrant must have permission from that child's parent/legal guardian. Sponsor reserves the right to disqualify any entry and remove any post that it determines, in its sole discretion, is not in compliance with these Official Rules.

RANDOM DRAWING:

Winner(s) will be selected in a random drawing from among all eligible entries received, to be held within twenty-four (24) hours following the entry deadline unless otherwise stated in the Sweepstakes Post.

ODDS

: The

odds of winning will depend upon the actual number of entries received prior to each drawing

.  The actual number of entries is unknown.  Based on an estimated entry number of 150, the odds of winning the Grand Prize are approximately 1 in 150.

WINNER NOTIFICATION:

Winner(s) will be notified either by an in-app message, email, or other means of direct correspondence available, and he/she will have 48 hours from notification to respond to Sponsor. The failure to respond to such notification or a winner's noncompliance with these Official Rules may result in disqualification, and at Sponsor's sole discretion, an alternate winner may be selected.

PRIZE(S):

See "Appendix B" for prize details and values. Prizes are awarded "as is" with no warranty or guarantee, either express or implied. Winners are responsible for all federal, state, and local taxes. Winners may not substitute, assign, or transfer prize, but Sponsor reserves the right, at its sole discretion, to substitute prize (or portion thereof) with one of comparable or greater value. All prize details are at Sponsor's sole discretion. Limit one (1) prize per person per sweepstakes.

GRANT OF RIGHTS:

By submitting an entry, each Entrant grants to Sponsor and its licensees, successors and assigns an irrevocable, perpetual, unlimited, royalty-free, fully paid-up license to reproduce, distribute, display, exhibit, exploit, perform, edit, create derivatives of and otherwise use the entry and all elements of such entry, together with any other material, as well as the name, username, city and state of residence, voice, image and/or likeness of the Entrant (including, without limitation, profile photo), in any and all media now known or hereafter devised, in any manner, in whole or in part, worldwide, without compensation or notification to, or permission from, Entrant or any third party, for any purpose whatsoever, including without limitation, for purposes of advertising or trade.

GENERAL CONDITIONS:

Each prize is non-transferable with no cash redemption or equivalent.  All applicable federal, state, and local laws and regulations apply.  Each winner is solely responsible for the reporting and payment of any and all taxes due.  The Sponsor, in its sole discretion and subject to applicable law, reserves the right to substitute any portion of a Prize with something of equal or greater value if the advertised Prize or portion thereof becomes unavailable.

Release:

By participating, each Entrant agrees:

to abide by these Official Rules and decisions of Sponsor and judges, which shall be final and binding in all respects relating to the Sweepstakes;

to release, discharge and hold harmless Released Parties from any and all injuries, liability, losses and damages of any kind to persons, including death, or property resulting, in whole or in part, directly or indirectly, from Entrant's participation in the sweepstakes or the acceptance or use of any prize; and

indemnify, defend, and hold harmless Released Parties from and against any and all suits, claims or causes of action arising out of or in connection with any alleged or actual infringement of any third-party trademarks, copyrights or any other intellectual property whatsoever.

Dispute Resolution:

Except where prohibited, you agree that

any and all disputes, claims and causes of action arising out of or connected with this Promotion or any prize awarded shall be resolved individually, without resort to any form of class action;

any and all claims, judgments and awards shall be limited to actual out-of-pocket costs incurred, including costs associated with entering this Promotion, but in no event attorneys' fees; and

under no circumstances will you be permitted to obtain awards for, and you hereby waive all rights to claim, indirect, punitive, incidental and consequential damages and any other damages, other than for actual out-of-pocket expenses, and any and all rights to have damages multiplied or otherwise increased.

Governing Law: All issues and questions concerning the construction, validity, interpretation and enforceability of these Official Rules, or the rights and obligations of you and Sponsor in connection with this Promotion, shall be governed by, and construed in accordance with, the laws of the state of Illinois, without giving effect to any choice of law or conflict of law rules (whether of the state of Illinois or any other jurisdiction), which would cause the application of the laws of any jurisdiction other than the state of Illinois.

 Limitations of Liability:

Released Parties are not responsible for:

lost, late, incomplete, damaged, inaccurate, stolen, delayed, misdirected, undelivered or garbled entries, tweets, retweets, messages or comments;

lost, interrupted or unavailable network, server, Internet Service Provider (ISP), Road Ranger Mobile App, Road Ranger's social media pages, or other connections, availability or accessibility or miscommunications;

failed computer, satellite, telephone or cable transmissions, lines, or technical failure;

jumbled, scrambled, delayed, or misdirected transmissions or computer hardware or software malfunctions, failures or difficulties;

other errors or difficulties of any kind, whether human, mechanical, electronic, computer, network, typographical, printing or otherwise, relating to or in connection with the sweepstakes, including, without limitation, errors or difficulties which may occur in connection with the administration of the sweepstakes, the processing of entries, the announcement of the prize(s) or in any sweepstakes-related materials; 

any incorrect or inaccurate information, whether caused by users, tampering, hacking, or by any equipment or programming associated with or utilized in the sweepstakes; or

injury or damage to any person's computer related to or resulting from participating in these sweepstakes.

Prohibited Conduct:

Persons who tamper with or abuse any aspect of the sweepstakes, the Road Ranger Mobile App, or Road Ranger's social media account, who act in an unsportsmanlike or disruptive manner or who are in violation of these Official Rules, as solely determined by Sponsor, will be disqualified and all associated entries will be void. Should any portion of the sweepstakes be, in Sponsor's sole opinion, compromised by a virus, worms, bugs, non- authorized human intervention or other causes which, in the sole opinion of the Sponsor, corrupt or impair the administration, security, fairness or proper play, or submission of entries, Sponsor reserves the right at its sole discretion to suspend, modify or terminate the sweepstakes and if terminated, at its discretion, select winner(s) at random from all eligible, non-suspect entries received prior to action taken or as otherwise deemed fair and appropriate by Sponsor.

Social Media Disclosure:

Although this Sweepstakes may be advertised on the Facebook, Instagram, Twitter, or other social media pages (collectively, the "Social Media Platforms") of Sponsor or another, this Sweepstakes is in no way sponsored, endorsed or administered by, or associated with the Social Media Platforms. Entrants are providing their information to the Sponsor and not to the Social Media Platforms. The information an Entrant provides will only be used by the Sponsor, in accordance with these Official Rules. By entering, Entrants provide a complete release of the Social Media Platforms from any and all responsibilities implied or provided by the Sponsor and that this Sweepstakes is in no way sponsored, endorsed or administered by, or associated with, the Social Media Platforms.
Appendix A
Participating Road Ranger Locations
118    3752 Camp Butler Rd. Springfield IL
132   4910 Market St. Champaign IL
136   2762 County Hwy. N. Cottage Grove WI
139   1112 East Southline Road Tuscola IL
140   2705 East 12th St. Mendota IL
141   990 W. SR 42 Brazil IN
144   100 Plaza Drive Elk Run Heights IA
145   205 North Highway Drive Fenton MO
153   1101 North 7th St. Rochelle IL
157   905 Hen House Road Okawville IL
181   500 Toronto Road Springfield IL
185   315 Dixie Rd. Suite A McLean IL
186   1311 Carolyn Dr. Minonk IL
187   3401 S California Ave Chicago IL
203   4980 S. Main St. Rockford IL
205   6070 Gardner St. S. Beloit IL
206   902 N. Elida St (PO Box 643) Winnebago IL
209   102 E.Woody St. Tomah WI
210   890 E. IL Route 38 Rochelle IL
211   7500 E. Riverside Blvd. Loves Park IL
225   2835 North Main St. Princeton IL
226   1615 East Main Street Greenwood IN
235   19N681 U.S. Highway 20 Hampshire IL
236   1946 Energy Dr. East Troy WI
240   2151 Ripley St. Lake Station IN
242   22345 Highway 28 St Robert MO
263   3041 North IL Route 71 Ottawa IL
265   1801 South Galena Avenue Dixon IL
266   700 King Rd New Berlin IL
267   10602 S. Cage Blvd Pharr TX
268   1776 S Court St. Grayville IL
269   2003 IL Hwy 1 Marshall IL
270   9977 North Interstate 35 Moore TX
271   10490 West Interstate 20 Odessa TX
272   45 East State Highway 44( PO BOX 479) Encinal TX
273   18337 Templeton Ave. Combes TX
275   601 US - 277 Sonora TX
276   6615 North Interstate Highway 35 Waco TX
277   907 N. McCoy Blvd New Boston TX
278   2202 N. Main St Brinkley AR
279   1701 IL route 148 Marion IL
280   2300 TX-464 Loop Rd. Monahans TX
Appendix B
Peloton Bike & Personalized Installation From Peloton. Valued at $3,500.