Road Ranger offers a comfortable, relaxing atmosphere created for customers to enjoy the gaming experience.
Our unique gaming cafes can be found throughout many Illinois locations.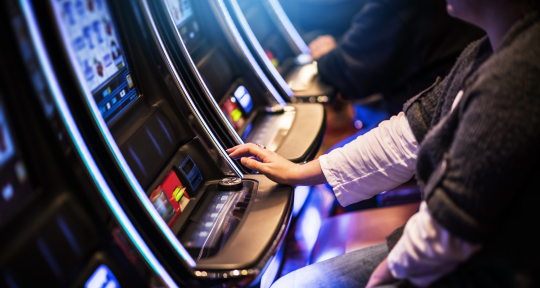 With fully stocked coolers and a wide variety of snack located just outside the gaming room doors, we are sure to have everything you need to keep you comfortable. Our gaming rooms are private rooms, separated from the hustle and bustle of the convenience store side of our locations. 
Our Vegas-style gaming lounges are sure to make every guest feel right at home.
ROAD RANGER #118- Springfeild, IL North - Camp Butler Rd
ROAD RANGER #132 - Champaign, IL
ROAD RANGER #139 - Tuscola, IL 
ROAD RANGER #140 - Mendota, IL 
ROAD RANGER #157 - Okawville, IL
ROAD RANGER #181- Springfield, IL South - Toronto Rd
ROAD RANGER #185 - Mclean, IL 
ROAD RANGER #186 - Minonk, IL 
ROAD RANGER #203 - Rockford, IL 
ROAD RANGER #205 - South Beloit, IL 
ROAD RANGER #210 - Rochelle, IL 
ROAD RANGER #225 - Princeton, IL 
ROAD RANGER #235 - Hampshire, IL
ROAD RANGER #263 - Ottawa, IL 
ROAD RANGER #265 - Dixon, IL
ROAD RANGER #266 - New Berlin, IL 
ROAD RANGER #268- Grayville, IL
ROAD RANGER #269- Marshall, IL